Jean-Pierre Chevalier
CFA
Senior Director, Portfolio Manager, U.S. Equities and Thematic Investing
Industrial Alliance Investment Management Inc.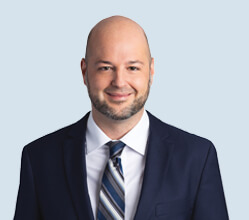 Jean-Pierre joined Industrial Alliance Investment Management (iAIM) in 2012. He specializes in U.S. equities and has over 15 years of investment industry experience. Prior to joining iAIM, Jean-Pierre worked in various roles at Investia Financial Services Inc., a mutual fund dealer and subsidiary of iA Financial Group, and Épargne Placements Québec. Jean-Pierre graduated from Laval University with a Bachelor's degree in Business Administration (Finance) and is a CFA charterholder.
"We look to capitalize on high-quality, attractively priced U.S. companies that are benefitting from disruptive technological innovation."
Jean-Pierre's philosophy
Jean-Pierre aims to generate superior risk-adjusted returns by investing in companies that thrive in an environment of rapid technological change. His disciplined, risk-conscious approach incorporates both quantitative and qualitative analysis, and results in a broadly diversified portfolio with attractive potential for long-term wealth creation.