IA Clarington Managed Portfolios

A solution built for you.
IA Clarington Managed Portfolios are comprehensive and actively managed, designed for today's complex markets.
The IA Clarington Managed Portfolios offer five different solutions that are built to target a balance of return and risk by carefully combining asset classes for diversification, depending on your risk profile.
BUILT FOR YOUR TARGET RISK PROFILE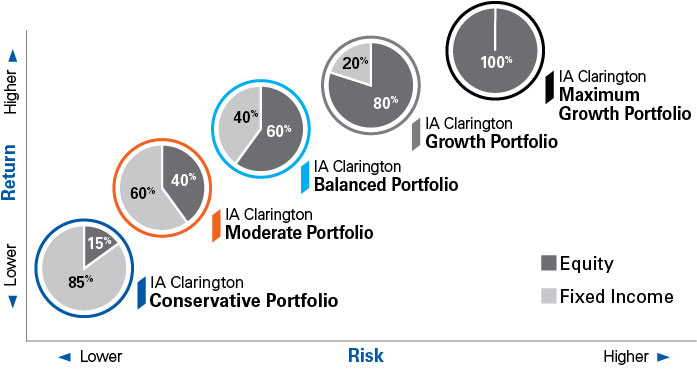 IA Clarington Managed Portfolios offer
broad diversification aligned to your personal risk profile
active management of security selection, tactical asset allocation and foreign currency exposure
daily portfolio monitoring with ongoing rebalancing to maintain designated target-risk levels
in-depth reporting through quarterly commentaries
peace of mind, knowing you are fully invested and on track toward your goals
Inhance SRI Funds
For investors looking for a portfolio solution and to align their investment goals with their personal values, we have the IA Clarington Inhance SRI portfolios. Each portfolio has different risk return characteristics and invests in a diversified collection of other mutual funds that meet Vancity Investment Management's socially responsible investment principles.
Distinction Portfolios
An investment portfolio is only right if it is right for you. Whether you are a growth-oriented investor or someone who puts capital preservation first, your financial advisor can help you find a Distinction Portfolio that suits your style.
Distinction offers five portfolios that invest in a combination of mutual funds designed to meet distinct investor needs.