IA Clarington Global Risk-Managed Income Portfolio

Built for investors seeking consistent, reliable income, the IA Clarington Global Risk-Managed Income Portfolio is a broadly diversified, actively managed solution that brings sophisticated, institutional-calibre asset allocation and risk management to the portfolios of Canadian retail investors.
Key features:
Targets a monthly distribution of 5% for Series F and 4% for Series A (annualized).

Provides enhanced income potential by investing in non-traditional fixed-income asset classes, including high-yield bonds and senior loans.

Maintains a 40–60% equity allocation to help ensure the longevity of retirement assets in an environment of rising inflation and longer lifespans.

Employs a systematic, comprehensive approach to risk management, including an options overlay that aims to reduce equity volatility.
---
Portfolio managers
The fund is managed by the iA Global Asset Management Inc. Asset Allocation Team, which employs an innovative "human + machine" approach that combines the steady hand of expert human judgement with the power of technology-driven quantitative analysis.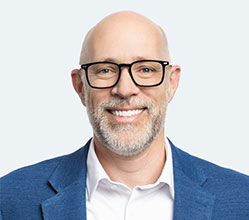 Sébastien Mc Mahon
MA, PRM, CFA
Chief Strategist, Senior Economist and
Vice-President, Asset Allocation &
Portfolio Manager
iA Global Asset Management Inc.
The fund leverages highly sophisticated investment methods that are normally available only to institutions such as pension funds, endowments, and sovereign wealth funds, enabling us to make asset allocation decisions that optimize the potential for consistent income while enhancing the portfolio's defences against market downturns.
- Tej Rai
Speak with your advisor to learn more about the IA Clarington Global Risk-Managed Income Portfolio.
---
Introducing the IA Clarington Global Risk-Managed Income Portfolio
Read transcript