Dan Rohinton
Vice-President & Portfolio Manager, Global Dividend
iA Global Asset Management Inc.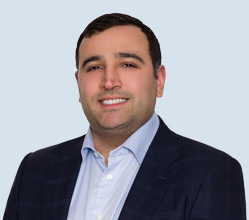 Dan joined iA Global Asset Management (iAGAM) in 2022 to lead the dividend team. He is co-lead portfolio manager, with Jean-René Adam, of the IA Clarington Global Dividend Fund.
Prior to joining iAGAM, Dan spent 10 years in a variety of progressively senior roles at a major asset management firm. Most recently, Dan was Portfolio Manager & Team Leader for the firm's Concentrated Equities team, managing over $3 billion across several global dividend and global equity portfolios. Dan's previous role was centred on deep fundamental research across the global financials and real estate sectors.
Dan holds an Honours Bachelor of Business Administration degree from Wilfrid Laurier University.
"I believe that for most investors, exposure to high-quality dividend stocks is a crucial part of a well-constructed portfolio."
Dan's philosophy
Dan is a bottom-up stock picker focused on delivering attractive risk-adjusted return potential through concentrated portfolios of his best ideas. He looks for quality companies with strong competitive advantages and the ability to grow their dividends over time.