Aziz V. Hamzaogullari
MBA, CFA
Founder, Chief Investment Officer & Portfolio Manager, Growth Equity Strategies
Loomis, Sayles & Company, L.P.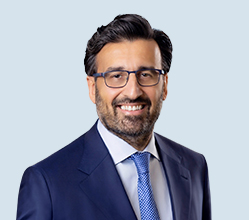 Aziz Hamzaogullari is the founder and chief investment officer of the Growth Equity Strategies Team at Loomis, Sayles & Company. He is the portfolio manager of the Loomis Sayles Large Cap Growth, All Cap Growth, Global Growth and International Growth strategies, including the Loomis Sayles Growth, Global Growth and International Growth mutual funds and products outside the U.S.1 Aziz is also an executive vice president and a member of the firm's Board of Directors. He joined Loomis Sayles in 2010 from Evergreen Investments where he was a senior portfolio manager and managing director. Aziz joined Evergreen in 2001, was promoted to director of research in 2003 and portfolio manager in 2006. He was head of Evergreen's Berkeley Street Growth Equity team and was the founder of the research and investment process. Prior to Evergreen, Aziz was a senior equity analyst and portfolio manager at Manning & Napier Advisors. He has 27 years of investment industry experience. Aziz earned a BS from Bilkent University, Turkey, and an MBA from George Washington University. He is also a member of CFA Society Boston.
1These funds/strategies are not available for sale in Canada.
"Teamwork and diversity of thought matter to us. A passion for investing, independent thinking, team orientation, and intellectual honesty are cornerstones of our culture. We are investor-centric. Our approach and incentives are aligned with our investors' interests."
Aziz's philosophy
Aziz is an active manager with a long-term, private equity approach to investing. Through a proprietary, bottom-up research framework, he looks to invest in those few high-quality businesses with sustainable competitive advantages and profitable growth when they trade at a significant discount to intrinsic value.