Matthew J. Eagan
MBA, CFA
Executive Vice-President & Portfolio Manager
Loomis, Sayles & Company, L.P.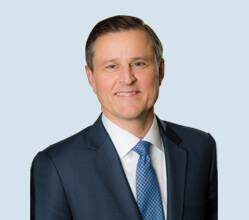 Matt has 30 years of experience as a portfolio manager and fixed-income analyst. He is co-portfolio manager for a number of Loomis Sayles' institutional and retail funds and serves as a member of the firm's board of directors. Matt joined Loomis Sayles in 1997 as a research analyst for the multisector fixed-income team. Prior to Loomis Sayles, he was a senior fixed-income analyst at Liberty Mutual Insurance Company and a senior credit analyst at BancBoston Financial Company. Matt earned a BA from Northeastern University and an MBA from Boston University.
"Our value-driven, opportunistic approach seeks to drive returns through a combination of current income and capital appreciation. We have a long-term investment horizon and look across the full spectrum of fixed-income securities to make allocations that provide value and diversification."
Matthew's philosophy
Matt uses a research-driven, bottom-up process to invest across multiple asset classes, sectors, regions, countries and currencies. His goal is to build a high-conviction portfolio that generates strong total returns over the long-term while managing exposure to potential downside risk.