David Caron
MSc, CPA, CFA
Senior Director, Portfolio Manager, North American Equities
iA Global Asset Management Inc.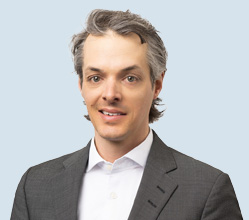 David has 20 years of experience in the investment industry. As a member of the iA Global Asset Management (iAGAM) Fundamental Equity team, he is responsible for the management of Canadian equity, sustainable equity, and preferred share mandates.

Prior to joining iA in 2011, he worked for Standard Life, Lombard Odier, and the Québec City pension fund.

David holds a Master's degree in finance from Sherbrooke University and is a CFA and CPA charterholder.
"I strongly believe in a disciplined investment process that combines top-down macroeconomic views with bottom-up research and analysis. Risk management is also key in producing strong risk-adjusted return potential."
David's philosophy
David's goal is to provide investors with capital appreciation and attractive income streams using a combination of top-down and bottom-up approaches to security selection. He focuses on companies that stand out as leaders in their respective industries.