Tej Rai
Senior Vice-President, Asset Allocation
iA Global Asset Management Inc.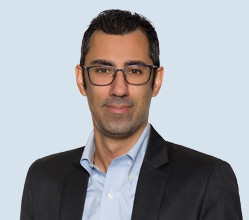 Tej joined iA Global Asset Management (iAGAM) in November of 2020 and has almost 20 years of investment management and data science experience. He has been a portfolio manager at two global asset management firms, where he honed his expertise in quantitative investment strategies, factor-based risk budgeting, currency and equity futures trading, and advising on asset allocation for institutional clients. He was also a senior data scientist at a New York-based health care company.
Prior to joining iAGAM, Tej was a principal and senior portfolio manager at SECOR Asset Management in New York, where he was responsible for the research, development and implementation of quantitative strategies within the equity indices, currencies, commodities and volatility sectors. In addition, Tej was instrumental in designing SECOR's customized client solutions, launching the firm's managed account platform, and coding up the firm's proprietary Python-based research and trading infrastructure from the ground up.
Tej started his career at Goldman Sachs Asset Management in New York, where he was responsible for developing and managing systematic commodity, currency, asset allocation and risk parity strategies based on themes such as value, momentum, risk premia, carry, supply/demand, macroeconomic conditions and economic linkages.
Tej co-leads iAGAM's Economics, Research and Asset Allocation team. This group is responsible for developing asset allocation and portfolio construction capabilities, as well as providing economic analysis and investment research. He is also a member of the iAGAM Asset Allocation Committee, which leverages insights from across the organization to help the portfolio managers make informed asset allocation decisions.
Tej is a summa cum laude graduate of the Jerome Fisher Program in Management & Technology at the University of Pennsylvania, where he obtained a B.S. in Economics with a concentration in Finance from the Wharton School and a B.S.E. in Electrical Engineering from the School of Engineering and Applied Sciences.
"Our asset allocation decisions are guided by a disciplined and risk-managed combination of fundamental and systematic strategies."
Tej's philosophy
Tej is focused on quantitative, systematic analysis and is committed to developing best-in-class asset allocation and portfolio construction capabilities. His objective is to generate consistent value added, with a focus on downside protection, while maximizing potential for long-term capital growth.