Sébastien Vaillancourt
MSc, CFA
Senior Director, Portfolio Manager, Quantitative Equities
Industrial Alliance Investment Management Inc.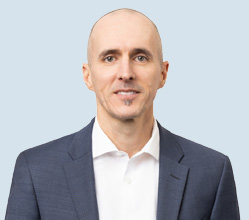 Sébastien joined Industrial Alliance Investment Management Inc. (iAIM) in 2001 and has over 20 years of investment industry experience, including positions in investment strategy, portfolio management and trading. He specializes in quantitative equity investing strategies.
Sébastien is a senior member of iAIM's Quantitative Strategies team, whose mission is to develop solutions that maximize the expertise of iAIM's portfolio managers, improve performance potential, and create new products and asset management methods to meet a wide range of investor needs.
Sébastien has a Master of Science degree in finance from Université du Québec à Trois-Rivières and is a CFA charterholder.
"We believe that active, quantitative multi-factor investing can significantly enhance a portfolio's diversification characteristics and performance potential."
Sébastien's Philosophy
Sébastien aims to provide global equity exposure that offers meaningful growth potential and capital protection. He focuses on industry-leading companies, using a multi-factor quantitative approach focused on momentum, quality and value. His goal is to invest in securities that exhibit factor characteristics that are expected to perform well in the current market and economic environment.