Jean-René Adam
MSc, CFA
Senior Vice-President, Head of Public Equities
Industrial Alliance Investment Management Inc.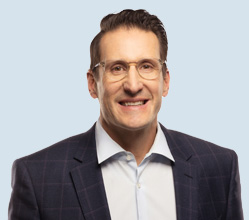 Jean-René has nearly 20 years of experience in portfolio management, investment team management and business development. He co-manages several iA Clarington mandates and is responsible for leading iAIM's North American equity and quantitative strategy teams.
Prior to joining iAIM, Jean-René held a variety of portfolio management and senior leadership roles at the British Columbia Investment Management Corporation (BCI) and Hexavest. He began his career as a researcher at Desjardins Capital Markets.
Jean-René holds a Master's degree in finance from Sherbrooke University and is a CFA charterholder.
"I'm looking for quality businesses with consistently strong earnings and free cash flows – the key ingredients of long-term dividend growth and capital appreciation."
Jean-René's philosophy
Jean-René's goal is to provide investors with capital appreciation and attractive income streams using a combination of top-down and bottom-up approaches to security selection. He aims to select quality businesses with excellent management teams and strong balance sheets.