Marc Gagnon
MBA, CFA
Vice-President and Principal Portfolio Manager, North American Equities
Industrial Alliance Investment Management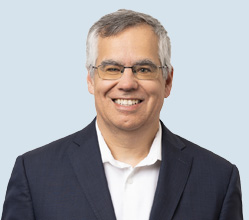 Marc has over 17 years of investment experience as a financial analyst, consultant on investment funds and portfolio manager. He employs a proprietary cash-flow model and exploits short-term opportunities presented by the market to add to and trim his positions.
Marc has an MBA from Laval University and received his CFA designation in 1995. He is also a member of the IAIM equity team.
Funds managed
"I'm looking for quality businesses with consistently strong earnings and free cash flows -- the key ingredients of long-term dividend growth."
Marc's philosophy
Marc's goal is to provide investors with capital appreciation and attractive income streams using a combination of top-down and bottom-up approaches to security selection. He focuses on companies that stand out as leaders in their respective industries.