IA Clarington Managed Portfolios
Expertly managed and built for diversification
IA Clarington Managed Portfolios are an all-in-one solution actively managed by one of Canada's most distinguished and highly respected economists, iA Financial Group Chief Economist Clément Gignac.
With IA Clarington Managed Portfolios, you benefit from a tailored solution that's aligned to your risk tolerance and backed by the strength and deep investment expertise of iA Clarington.
Broad diversification
A broadly diversified portfolio is one of the most important elements of risk-conscious investing for the long term. Since no single asset class will always chart an upward course, spreading your investments across a variety of asset classes can reduce risk and help ensure that you stay on track towards your financial goals.
With IA Clarington Managed Portfolios, professional money managers ensure that your investments are always properly diversified.
The graphic below illustrates how much the performance of each asset class can change from one year to the next, underlining the importance of a diversified portfolio.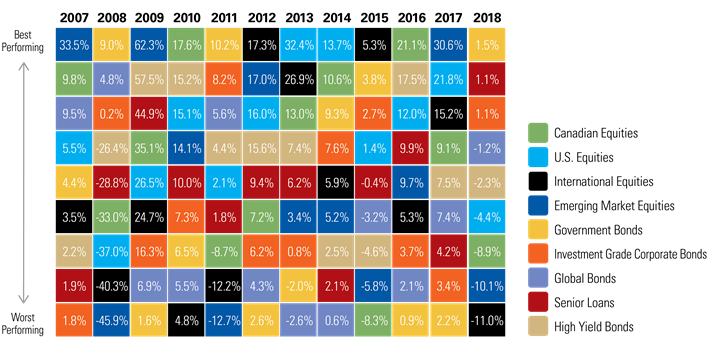 Source: MSCI Inc. MSCI makes no express or implied warranties or representations and shall have no liability whatsoever with respect to any MSCI data contained herein. The MSCI data may not be further redistributed or used as a basis for other indices or any securities or financial products. This report is not approved, reviewed, or produced by MSCI.
Source: Morningstar Direct (December 31, 2018). U.S. equities represented by S&P 500 TR Index (USD), International equities represented by MSCI EAFE NR Index (LCL), Canadian equities represented by S&P/TSX Composite TR Index, Emerging Markets equities represented by MSCI Emerging Markets NR Index (LCL), Government Bonds represented by FTSE Canada All Government Bond Index, Investment Grade Corporate Bonds represented by FTSE Canada All Corporate Bond Index, High Yield Bonds represented by BofA Merrill Lynch US High Yield Master II TR Index (USD), Senior Loans represented by Credit Suisse Leveraged Loan Index (USD), Global Bonds represented by Barclays Global Aggregate TR Index (USD). Please note High Yield bonds are bonds considered below BBB- by rating agencies. Index returns are in local currencies to reflect the returns of the underlying investments without currency impact.
---
Built for your target-risk profile
The five IA Clarington Managed Portfolios target the optimal balance of return and risk for a variety of investor types.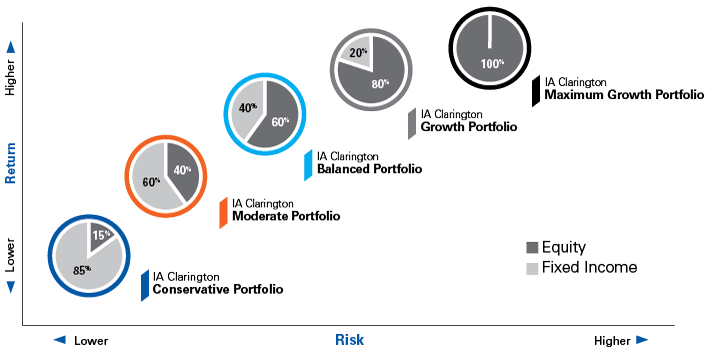 ---
Managed with experience
Asset allocation driven by economic and market analysis
Led by iA Financial's Chief Economist Clément Gignac, the portfolio management team uses a flexible and diligent asset allocation process that focuses on global economic and market conditions. As these conditions change, the team can adjust the portfolios to ensure they remain aligned with their broader objectives.
Asset class specialists with broad reach and diversity
Portfolio segments are actively managed by asset class specialists from some of North America's most respected investment firms. Each focuses on meticulous security selection from a unique perspective, bringing style diversity to the portfolios.

---
Optimized for today and tomorrow
IA Clarington Managed Portfolios are actively managed and rigorously monitored to ensure that your portfolio remains on track and aligned to your goals and risk tolerance.

Active asset allocation
Positions portfolio for opportunities or risks perceived in the market.

Active foreign currency exposure management
Seeks to enhance return potential and reduce volatility.

Active due diligence
Seeks to ensure that the underlying portfolio segments continue to deliver optimized performance.

Active rebalancing
Maintains each portfolio within its target-risk level.
---
Speak with your financial advisor to get IA Clarington Managed Portfolios working for you today.