Active Insights
Market insights
Reports | Various |
Jul. 27, 2022
2022 Mid-Year Review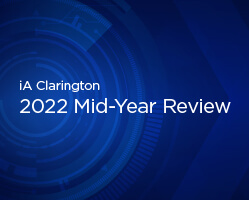 Find out how our portfolio managers are positioning their funds for today's high-inflation, rising-rate environment.
Webcasts | Various |
Apr. 5, 2022
Navigating Market Volatility: Insights on the Global Investment Landscape
Portfolio managers Dan Bastasic and Sébastien Mc Mahon offer their insights on the volatility we're seeing in the markets and explain what they're doing to manage risk and seize opportunities in the weeks and months ahead.
Reports | Various |
Jan. 26, 2022
Perspectives on Market Volatility
Our portfolio managers and sub-advisors discuss the causes of the current downturn and explain how they are positioning for the road ahead.
Reports | Various |
Dec. 16, 2021
2022 Market Outlook
It was a great year for the markets, but as we approach 2022, uncertainties around inflation, central bank policy, supply chains and the impact of new variants of COVID-19 present investors with a complex and unfamiliar path ahead. Read our 2022 Market Outlook for perspective and insight on the year ahead from our portfolio managers and sub-advisors.