Active Insights
Market insights
Reports | Various |
Jul. 27, 2022
2022 Mid-Year Review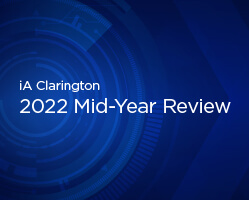 Find out how our portfolio managers are positioning their funds for today's high-inflation, rising-rate environment.
Webcasts | Various |
Jun. 21, 2022
Timely Insights from Our Sub-Advisors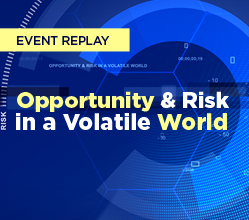 Watch the replay or read the session summaries of our CE-eligible event with Loomis, Sayles & Company, QV Investors, Wellington Square, Vancity Investment Management and iA Investment Management.
Summaries:
Videos | Wellington Square |
May 27, 2022
Update on Floating Rate Income & Core Plus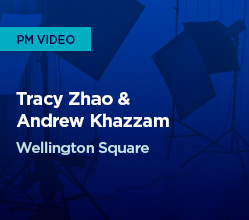 Portfolio managers Tracy Zhao and Andrew Khazzam discuss the current market environment and provide an update on the IA Clarington Floating Rate Income Fund and IA Clarington Core Plus Bond Fund.
Webcasts | Wellington Square |
Jan. 28, 2022
Adding Value Through High-Conviction Fixed-Income Investing
Central banks are poised for a major shift in monetary policy, creating additional complexity within an already challenging environment for fixed-income investors. In this webcast, recorded January 28, Wellington Square portfolio managers Jeff Sujitno and Andrew Khazzam explain how their nimble and flexible approach will enable them to manage risk and seize opportunities in months ahead.
Reports | Various |
Dec. 16, 2021
2022 Market Outlook
It was a great year for the markets, but as we approach 2022, uncertainties around inflation, central bank policy, supply chains and the impact of new variants of COVID-19 present investors with a complex and unfamiliar path ahead. Read our 2022 Market Outlook for perspective and insight on the year ahead from our portfolio managers and sub-advisors.
Webcasts | Various |
Oct. 6, 2021
Due Diligence with iA Clarington Sub-advisors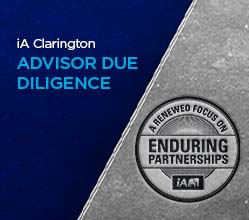 Watch the replay or read the summary of our October 6 virtual due diligence event with our four sub-advisory partners: Loomis, Sayles & Company, L.P., QV Investors Inc., Vancity Investment Management Ltd., and Wellington Square. Each session provides in-depth insight on the opportunities and risks in today's market and a behind-the-scenes look at the unique investment styles these experienced and talented managers bring to their funds. CE credits pending approval.
Summaries: